I've recently been theorizing around a new model for IT transformation. There's anecdotal evidence that, in general, business problems tend to change slower than the rate of technology innovation. Thus, we can discern that IT has focused on the application of technical innovation to solve existing business problems in more effective ways versus using technology innovation to solve only new problems or continually having to evolve the solution to an existing business problem.
The figure below illustrates a generally-observed pattern in IT. Existing problems move to the new platform under the guise of "technical refresh" while technology innovation introduces new business problems to be resolved. Ultimately, what we learn is that there's very little stickiness with legacy platform selection and that users will eventually attempt to migrate their solution domain forward onto the latest solution set in an attempt to derive lower costs, easier support, better performance and overall improved customer experience.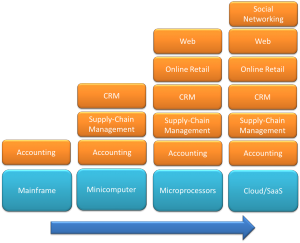 However, something interesting is occurring in this most recent migration that is best described as service-orientation. This change has profound impact for the IT industry that we will call the "Facebook effect" for lack of a more widely-understood term. The Facebook effect is best explained as follows:
In general, small populations of Facebook users will leave the service completely and , for many, overall time on the site may diminish, however, Facebook, as a service, is seemingly entrenched to a point where it cannot be unseated.
That is, another service will most likely not emerge offering the same function and capabilities driving a migration of users away from Facebook to this new service. This is because the user has invested in customizing the service to a point where it is extremely painful to recreate in a completely separate service.
Over time, Facebook adds more features and the underlying performance is improved through technology innovation and continuous platform improvement, but the consumer of the Facebook service is relatively unaware and unaffected by these changes. In contrast, today, enterprise IT users are very aware of underlying platform changes. For example, a migration away from a client/server version of the application to the Web-based version of the application will represents a significant shift in user experience.
As IT organizations start to adopt, and more succinctly, perfect, a more service-oriented approach toward IT delivery, I believe, they will start to experience the Facebook effect within their own domain. There will be less significant change at the service level with more material changes continuing to occur in the platform. Moreover, IT will start users will start to invest their time in building connections with and automating their processes around the service. This will greatly limit enterprise IT's ability to arbitrarily change the service in a way that impacts the user. The net impact of this on the business is yet to be seen, but in general, it is clearly the change that we have heard forecasted for years about business taking the lead in information technology direction.